Severe Thunderstorms Blast Through The Region Tuesday Evening
Hagerstown, Maryland
-
HAGERSTOWN, MD (WHAG) -
After a very hot and humid airmass moved into the region on Tuesday, severe thunderstorms moved through the region leaving behind lots of damage from the high winds and heavy rainfall.
According to the National Weather Service Baltimore/Washington, D.C., this line of thunderstors took trees down over roads, on homes, and into power lines. Large falling tree branches also resulted in one fatality and eight injuries in a group of kids trying to seek shelter from these thunderstorms in Carroll County, Maryland.
These thunderstorms were racing along to the East at around 50 miles per hour, and reported wind gusts from these storms ranged anywhere from 45 to 61 miles per hour.
The severe weather on Tuesday progressed pretty quickly during the afternoon, as showers and thunderstorms broke out first in Eastern Ohio and Southwestern Pennsylvania around 1:00-1:30 PM, and the moved into North Central West Virginia around 2:30 - 4:00 pm leaving Tornado Warnings for Monongalia and Preston Counties in West Virginia, and then moved into our region between 4:00 and 7:00 PM.
Meteorologists at the National Weather Service we're tracking the squall line of thunderstorms that moved into the region, and issuing Severe Thunderstorm Warnings in advance of the line as it moves to the East. Meteorologists at the National Weather Service say, as the squall line moved into the region, those Severe Thunderstorm Warnings were targeted for the areas where the damaging winds and/or large hail were expected, and one of those warnings is listed in the map below, which includes Washington County, MD, Berkeley, Morgan and Jefferson Counties, WV, and Clarke, Frederick and the City of Winchester in Virginia.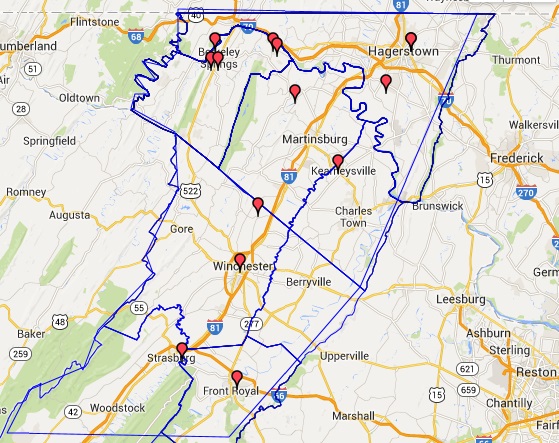 The National Weather Service issued this Severe Thunderstorm Warning at 5:30 PM and was in effect until 6:15 PM, for about 45 minutes. The National Weather Service says the damaging winds hit Martinsburg Airport (KMRB) at 5:52 PM, and Winchester Regional Airport around 5:55 PM, and then Hagerstown at 6:01 PM.
The image above shows all the Severe Thunderstorm Warnings issued by the National Weather Service Baltimore/Washington in conjunction with the damaging line of thunderstorms on Tuesday Evening.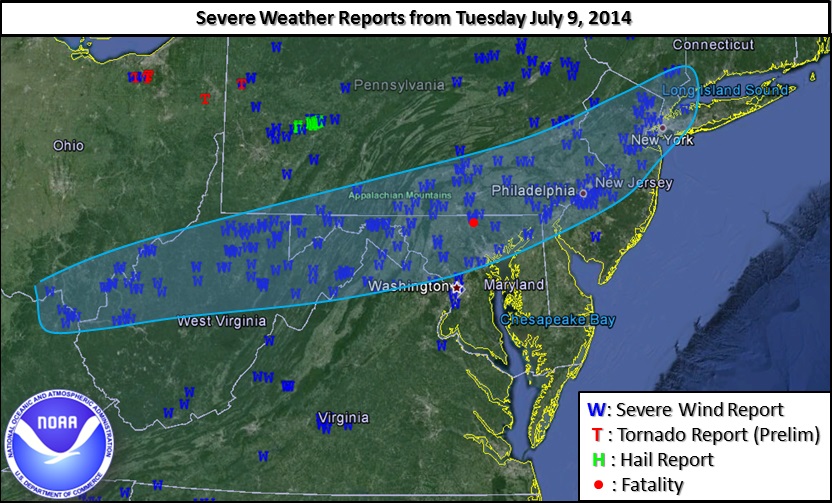 The map above shows the reported Wind Damage Reports in the Blue W's, and Green H's for Hail Reports, and Red T's for Tornado Reports confirmed from the National Weather Service, with the most damage being reported in the blue zones, highlighted on the map.
For a complete report on the severe thunderstorms, including detailed damage reports from the National Weather Service, click on the link:
National Weather Service Baltimore/Washington Severe Thunderstorm Event - Tuesday July 8th, 2014